Jose Maria Lopez understands Toyota's decision to move him to its third car for the Le Mans 24 Hours because "the team has much more to lose" than he does.
Three-time World Touring Car champion Lopez switched to the World Endurance Championship with Toyota for this season but injured his back crashing in the Silverstone opener and missed Spa as a result.
He has since been switched from the #7 TS050 HYBRID to the #9 for Le Mans, alongside the recalled Nicolas Lapierre and reigning Super Formula champion Yuji Kunimoto.
Toyota has opted to replace him with Stephane Sarrazin in the #7 because Lopez's problems mean he has not gained much race experience in the LMP1 car as planned.
"I'm completely fine, I am in the team and probably the team has much more to lose with being in car #7 than I have," Lopez, who will rejoin Mike Conway and Kamui Kobayashi for the post-Le Mans WEC rounds, told Autosport.
"Being in the third car doesn't mean anything, I'll have the same chance as the others.
"It's going to be tough for us but we're a good crew. Nico and I especially share that we've had it tough and we've been in a really bad situation and we've fought back.
"That's a good thing, that's why I think we can do very well together.
"I'm not losing anything from this because afterwards I'll be back in car #7.
"It's a very important race for the team and they are putting all their efforts into optimising everything.
"Stephane is mega quick and knows Le Mans probably better than anyone else."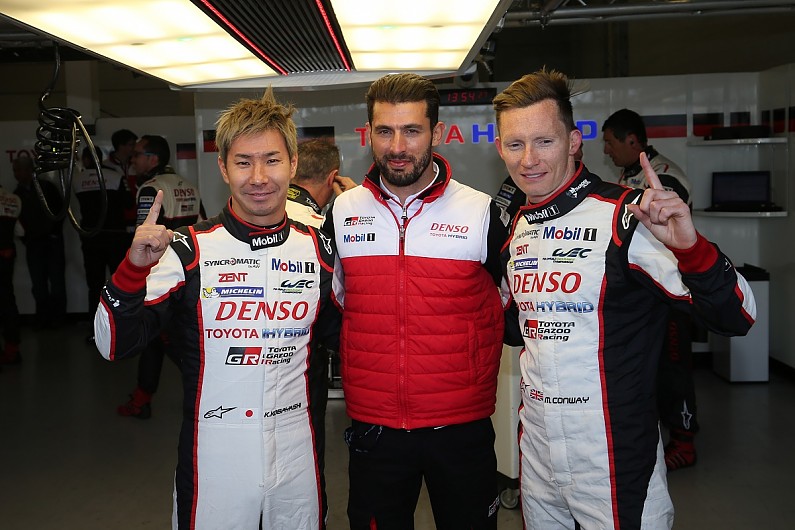 Lopez crashed at Copse corner on his fourth racing lap at Silverstone in a car that had sustained a broken rear anti-roll bar earlier in the race.
"I'm not desperate, I know how racing works, sometimes you have good times and bad times," he said.
"I'm not going to make excuses. The good thing is in terms of speed I'm OK I'm competitive, I have the speed to win races.
"I cannot avoid I'm lacking experience in the LMP1 car. There are many situations I can't really control – like at Silverstone, I'd never driven the car with a little bit of rain on slick tyres."
Prior to his return to the wheel of the TS050 at Spa last week, Lopez said he does not anticipate his inexperience of the Circuit de la Sarthe posing a problem.
"I'm really looking forward to Le Mans, it's been a long wait," he said.
"I'm completely confident I'll be at a very good level, it's not going to be a problem me not knowing Le Mans."